***Contest has ended and we have a happy winner!***
Stay tuned for updates and blog posts on the finished cake.
This Spring/Summer 2010 Amanda Oakleaf Cakes of Boston, MA is giving away a freakin' awesome, life-size storm trooper cake replica!  Full details below the fold.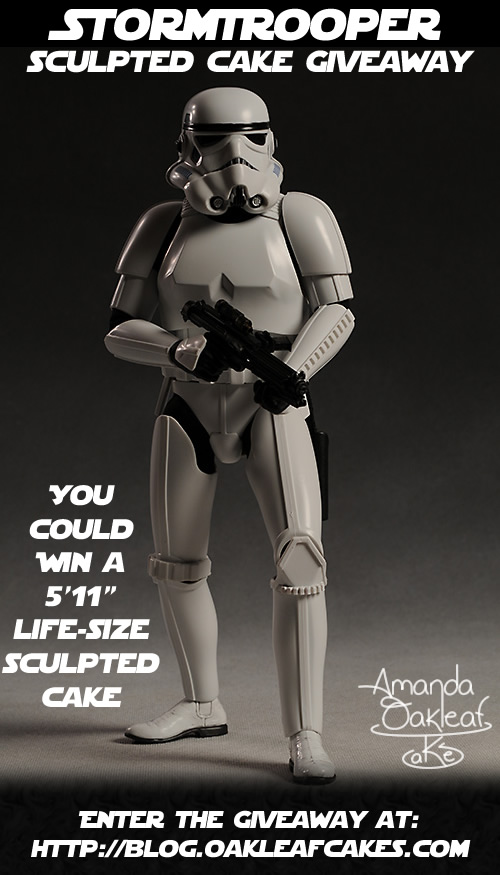 ---
That's right, it's a life-size replica Stormtrooper you can eat, armor and all.  To get an idea of the scale of this mound of sugar craziness we've included the below infographic: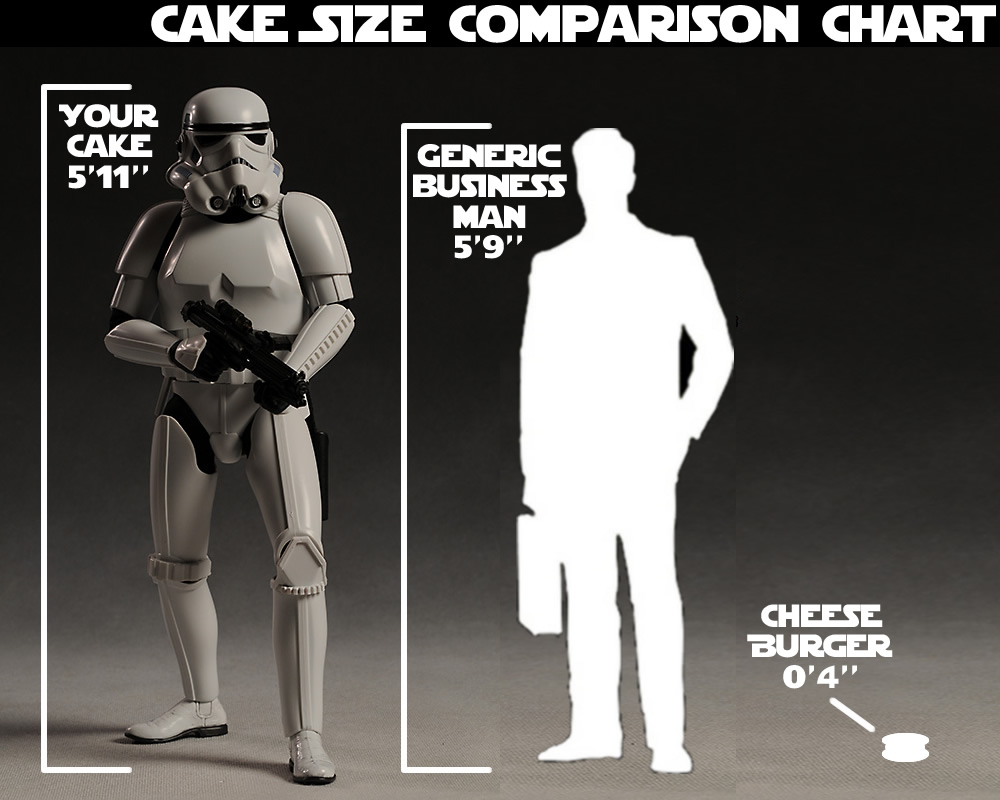 So I know what you're thinking, "Wait, you mean that the stormtrooper pictured above is going to be made out of cake? And be nearly six feet tall?"
That's the plan. And it will look almost identical to the above stormtrooper. The entire sculpture will be made of just cake, rice crispy treat, fondant, sugar paste, and a minimal amount of styrofoam and structural support.  When we're done, you should be convinced that it's just another dude in a stormtrooper costume, that is, until you take a slice out of him.
Can we do it? Sure! While it's our most ambitious cake thus far, we've done many other amazing cakes in the past.
For example: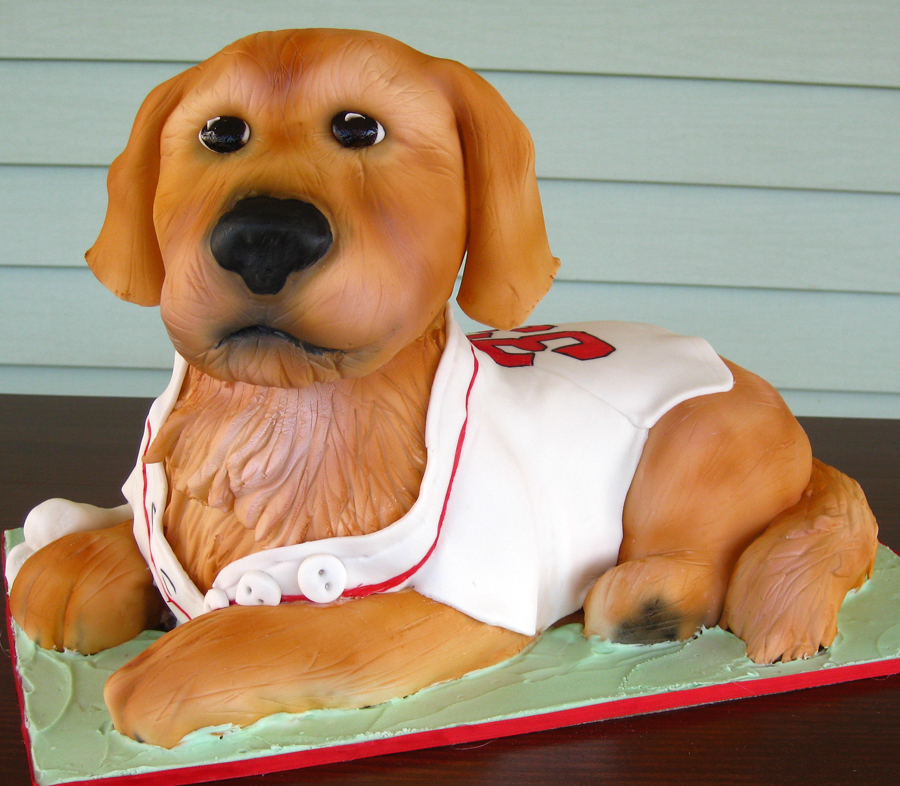 Crazy right?  And we're giving it away! Why? Because we really want to make an amazingly huge, freakin' awesome cake.  And, since we're shutting the bakery down for a week to crank this baby out, it would be rather expensive for an individual to buy.  Like 4-7K expensive.  So we're giving it away to some lucky person who meets the criteria below.
To Qualify for the Giveaway:
1. You must be hosting a party for more then 100 people sometime between March – September 2010
We don't care what type of party it is (Wedding, Birthday, Corporate, etc…)
2. Said party must be held at a sufficiently large facility to properly display cake.
This cake is a big, expensive deal. We want you to treat it as such and not just stuff it in the corner of your one-bedroom apartment. On the other hand, you don't need to rent out the Four Seasons ballroom in order to qualify. Just have a reasonably nice place to show the cake.
3. Must be able to allow 5-8 hours for set up before your party.
This cake is going to require a herculean effort to assemble on site, so we need time.
4. Party must be held in the New England area.
Massachusetts is preferred. Boston Metro area is even better, but we would entertain delivery to Providence and possibly New York if proper lodging can be arranged.
That's it! So what do you get if you win?
The winner will receive:
1. Life-size stormtrooper sculpted cake.
a. We expect the cake to serve approx. 150 people.  Probably more if you include the rice crispy treat parts of the cake.
b. You can choose from the following flavors: Chocolate, Red velvet, Vanilla, Carrot
c. You can choose from the following fillings: Vanilla or Chocolate Italian Meringue
d. Cake will be crumb coated in an Italian Meringue frosting and covered in our Marshmallow Fondant.
Additional Rules and Stipulations:
1. Cake will have it's own one hour photo shoot sometime between assembly and the start of your event.
2. We would like the winner to take a picture with cake that will be used for promotional material and posted on this blog.
3. We would like for you to display the cake for at least an hour prior to cutting into it.
4. Some local press may or may not attend event to photograph cake, but we will let you know ahead of time if and when they will be there, and will do our best to keep everyone out of your hair.
5. We would also like to take photos of the cake being cut.
6. After your event, the cake's frame and structural materials must be returned.
Disappointment Clause:
1. We're sculpting a six foot tall person out of cake.  We are very good at our jobs, and there should be no problems, but despite our best efforts, no matter what we do, there is still a 5% chance this cake could self destruct.  In which case, we will change the title of the cake from "Stormtrooper" to "Stormtrooper post Jedi" and still have a good time.  If it doesn't work we apologize, but this is a super ambitious project, and it's free to you, so please don't complain.  There is no reason it won't be awesome, but life happens.
2. We may alter some details of the cake without telling you in order to make it work.  Inevitably things come up, and adjustments will be made so that the cake stands on its own and tastes delicious.  We'll try to stick to agreed details, but our main concern is to have a standing cake at the end of the day.
Finally:
Amanda Oakleaf Cakes is in no way, shape, or form associated with Lucas Media, the Star Wars franchise, or anything Star Wars related. We're just making a cake for our own amusement and giving it away.
To Enter the Giveaway:
Fill out the below form.
[contact-form 2 "Giveaway"]