New Store Update!  Since our Last Post our new Boston store is progressing rapidly.  As hard as we tried things are taking longer than expected and we missed our anticipated open date of Sept 1st.  Last minute changes to the installation of equipment have held us up a bit but we are closer than ever.  Thanks to our family, friends, our amazing crew and their friends who've volunteered their time we've made enormous progress.  Basically we just have a few more sections of tile to grout, walls to paint in the backroom, install a vent on our ovens and then we'll be ready to start moving in.  We hope to open within another week or two from today.
Our new store info:
Oakleaf Cakes
12 Westland Ave  Boston, MA  02115
Contact us at:
617-299-1504
oakleafcakes@gmail.com
FYI
You may have noticed that we are in the process of changing our name from Amanda Oakleaf Cakes to Oakleaf Cakes.  Don't worry Amanda is still the boss but we wanted to emphasize that it's not just a one woman show.  We have a wonderfully talented group of artists and bakers who work on your cakes every week as well as a new team of baristas to assist with the front end sales portion of the new store.  Stay tuned to our website as we will be updating our 'about' page soon so you can meet the new old and new members of the Oakleaf Cakes team.
For those of you who have cake orders with us: Scheduled deliveries won't change.  If you scheduled a cake pick-up you will be contacted by our office assistant to arrange a 1-2 hr window in which to pick up your cake from our new Boston location.
For those of you who would like to place future cake orders:  We are currently available to take orders via phone and email as neither store is open to the public during this transition.  If you want to come in to talk with us about your ideas and taste some cake give us a call to set up a tasting/consultation.
For cake class students: We apologize for any inconvenience regarding this upcoming week's classes.  We really thought we'd be open by now.  We have contacted students scheduled for the Sept 22 and 24th classes and informed them that their class will take place in the Winthrop store.  Hopefully, all classes after that will be able to take place in our new Boston location.  Stay tuned for more info and if you are in a class that we either need to relocate or reschedule you will get a call from us.
Thanks everyone for your patience and support while we make this transition from one store to the next, much bigger and much more fun, store.  We really love to hear how everyone in the neighborhood is so excited for us to open.  Believe me, we're just as excited as you are.
   Stay tuned to this blog, and our facebook and twitter pages for the latest updates.  Please call us with any questions or concerns you may have and we look forward to making your cake!
This is a view of the front of our store looking into the classroom (behind the windows) taken a couple nights ago.  Different from our old Winthrop location we will now have tables and chairs for customers to come and stay a while to enjoy your treats and cake goodies.  We will also be decorating our cakes in this classroom when we're not hosting classes or private parties.  So yes, you will get to watch how we create our edible art masterpieces.  Pretty cool, we know.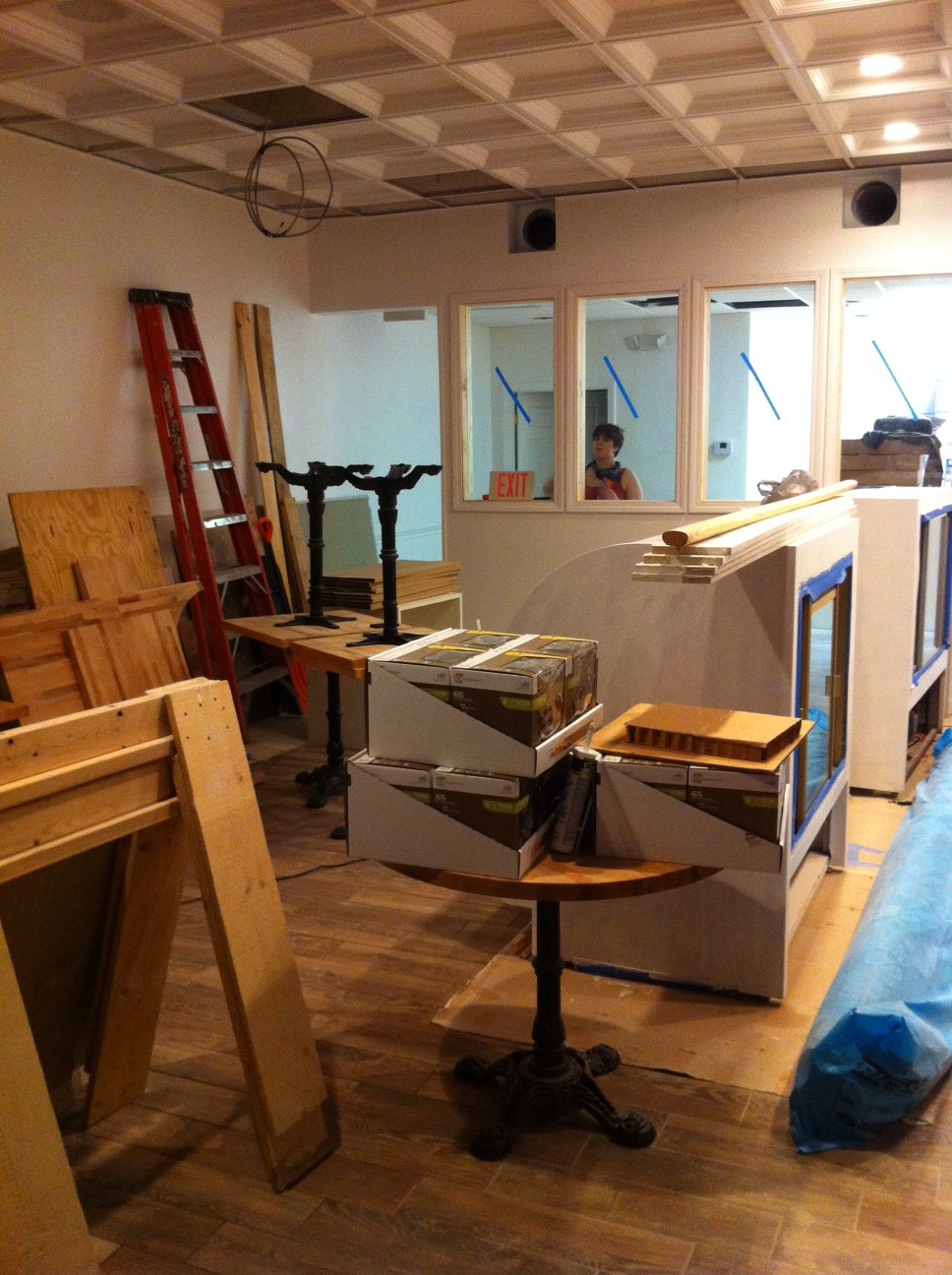 This is a view of the backroom of our store where all the baking magic will take place.  Just needs a coat of paint before we move in.