Frosting the Dog is one of our favorite sculpted cakes.  After completion he was so real to us that we named him Frosting.  It was such a joy to have him sitting around the kitchen watching us with his puppy dog eyes.  We also enjoyed taking him for a ride in the car, aka delivery.  It was a little sad to return home without him.
Frosting was made for a birthday girl who was both a Red Sox fan and a lover of Golden Retrievers.  Because we know many of you are curious, we've decided to reveal a few of our secrets behind a 3D sculpted cake.
Here is the finished Frosting in all his glory.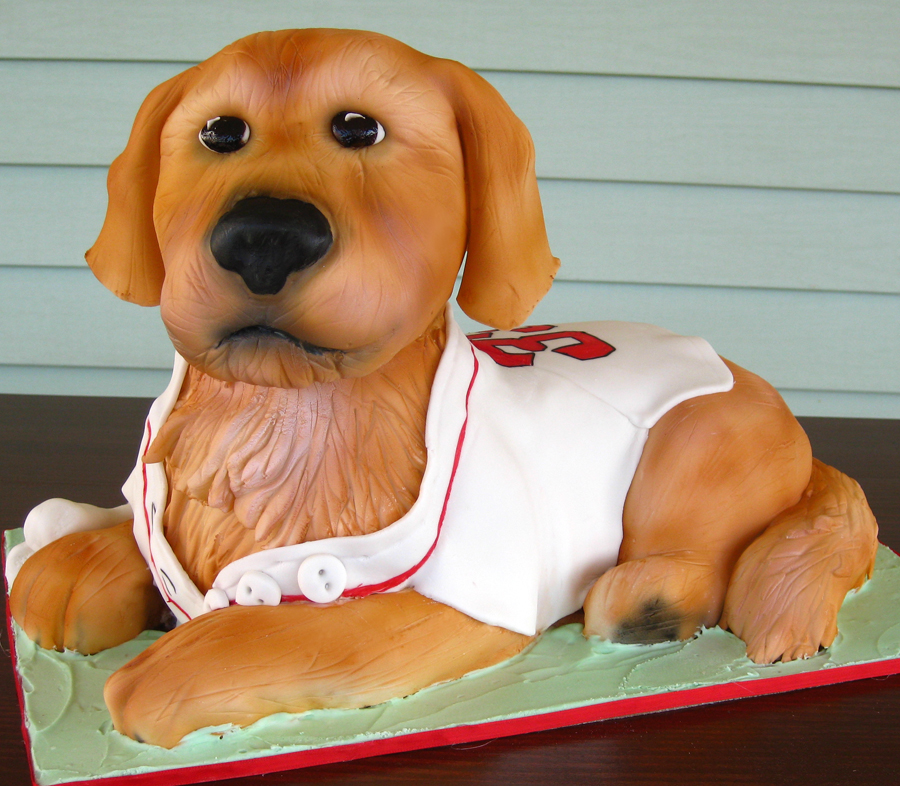 The original sketch which was sent to the client before anything was baked.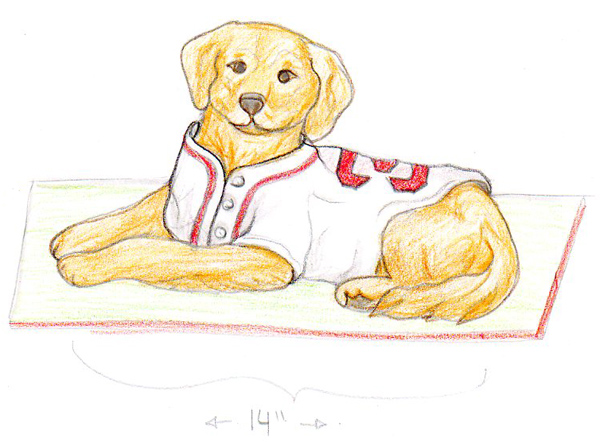 This is a shot taken just after we had assembled and carved the cake layers and were just beginning the crumb coat.  For the sake of keeping it lightweight we used styrofoam for the head which we sculpted and molded with modeling chocolate to reveal facial features.  Every other part of the cake is edible including the rice krispie treat limbs.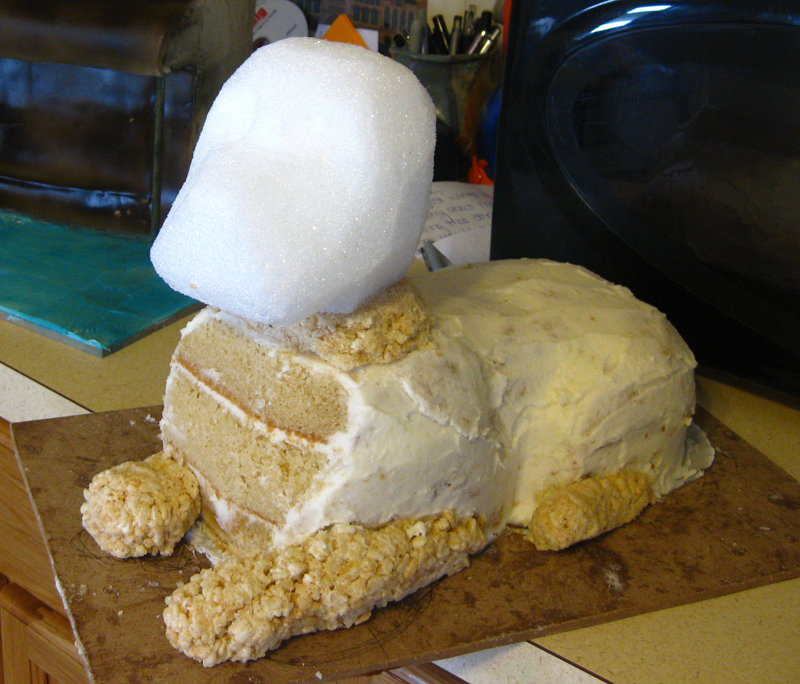 Here the body of the cake has been covered in fondant.  We wrapped it in plastic wrap to keep it from drying out before we're able to add the fur texture.  As you can see from my huge elbow, I'm covering the sculpted head in fondant, intentionally leaving folds in the fondant (which is usually a 'no-no' when covering a wedding cake for example) as to make the ears look more realistic.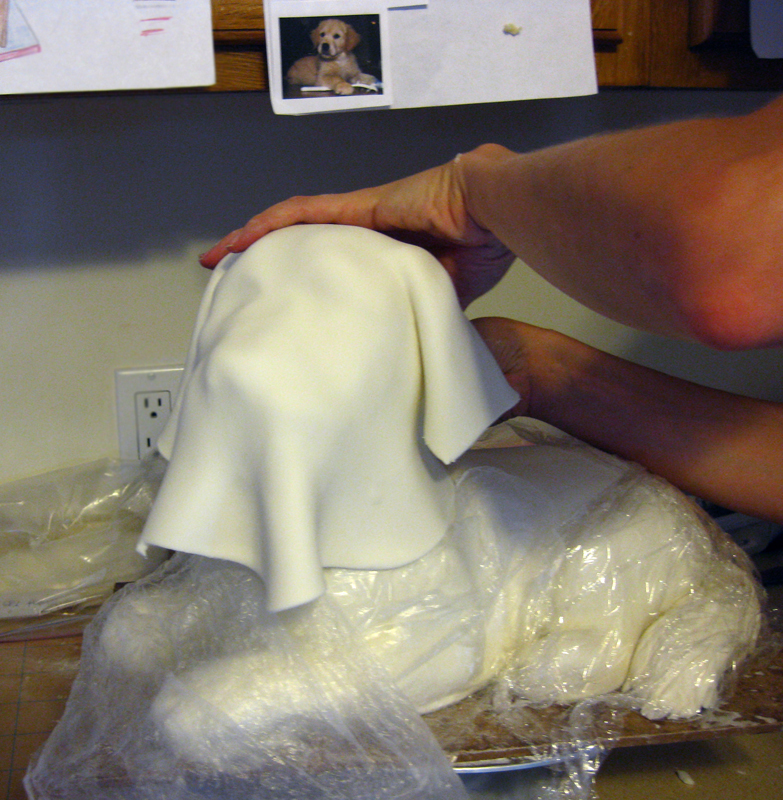 Below sits frosting after his first round of air brushing.  It took many rounds of air brushing and mixing many colors to give the affect of real fur, which dose have subtle changes in color.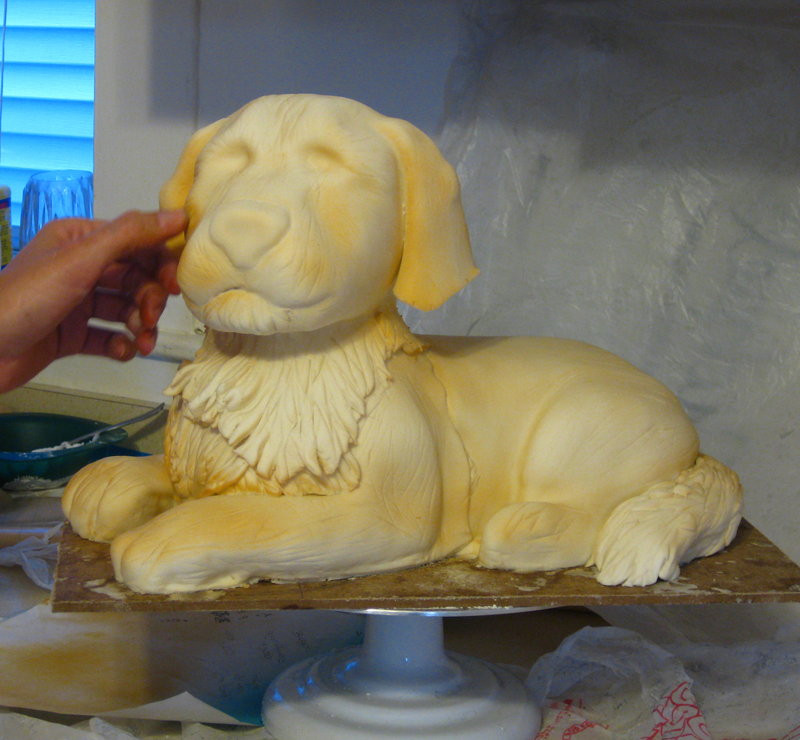 This is the point where we gave Frosting his name.  It is also the moment when he became so very real to us.  I just wanted to pick him up and hold him.  After this stage we added the Red Sox jersey and final details.  And voila!  Frosting the Dog cake  : )